Department store chain and online retailer Dillard's (NYSE: DDS) has just ended a spectacular year 2021. After the COVID-19 crash in our economy, company management rolled up their sleeves and controlled costs, and managed inventory so effectively that the company exceeded all profit estimates in 2021. In addition, the pent-up demand skyrocketed as vaccinations accelerated, lockdowns were lifted and people turned to online shopping with vengeance.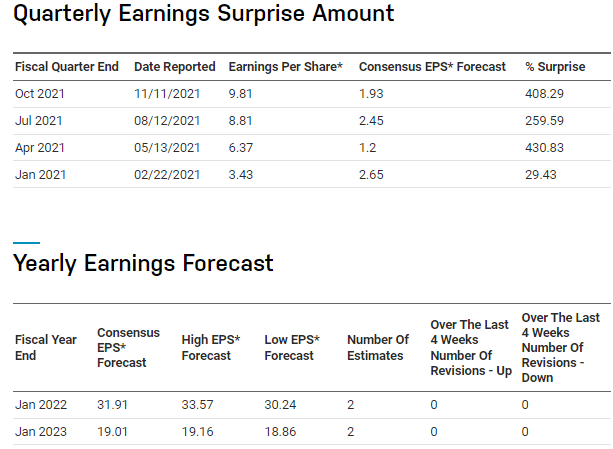 Image source: NASDAQ
Analysts estimate that DDS will release EPS of around $ 32 in 2022, which will drop to around $ 19 in 2023 as the situation returns to normal. If these estimates come true, this implies that DDS will enter a phase of time correction or consolidation. That seems to be the consensus in the market these days, as DDS has reacted quite sharply, dropping from the high of $ 417 it reached in November 2021 to $ 234 on January 6, 2021, a reduction of 44%.
Now here is my take on the DDS Investable Quotient.
Price momentum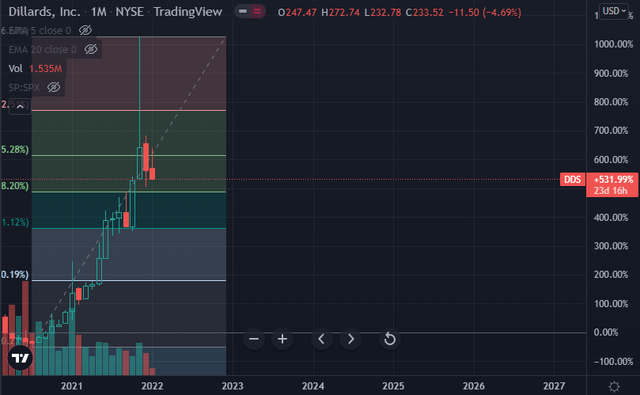 Image source: TradingView
Between March 2020 (the month that saw the COVID-19 collapse) and January 6, 2022, the price of DDS increased by 532%. At one point in November 2021, the price of DDS had gained over 1000%. Over the past 12 months, DDS has gained 360%. These are very irrational price movements, but at the same time, its retracement from its highs has been swift and abrupt. This makes it an extremely volatile stock.
DDS's monthly price chart suggests that:
Although the stock is down, the volumes have declined. This implies that a rebound may occur if valuations become attractive again for the big players.
Support exists at $ 217 (then $ 171). If it does not crack below the first level of support, a rebound may occur.
The resistance levels, based on the Fibonacci retracement levels, are $ 264 and $ 322.
Related data suggests that DDS's short-term interest is 44%. This makes the possibility of a short press brighter. Traders can look at the levels suggested above.
Year-to-year comparison of income and expenses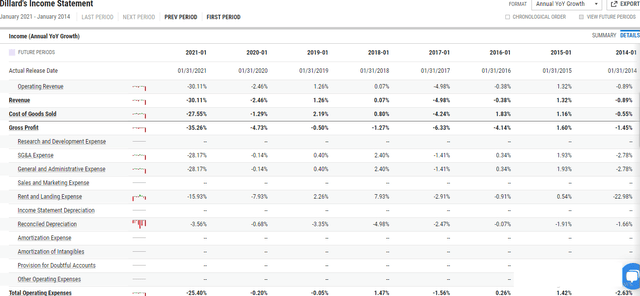 Image Source: YCharts
Although DDS revenue in 2021 fell 30.11% year-on-year, the company has been very effective in controlling costs. Its cost of goods sold in 2021 fell 27.55% year-on-year and its SGA and rent / landing expenses fell sharply by 28.17% and 15.93%, respectively, during the same period, also in year-over-year.
So, the secret sauce behind DDS beating all profit estimates is its effective cost control and inventory management strategies. It is not an annual growth in income.
Note that in the pre-COVID-19 era (see image above), DDS revenue has seen steady single-digit growth on a year-over-year basis. Therefore, I believe that in the future, DDS's bottom line will likely be driven by the cost reduction programs it has put in place rather than a natural increase in demand for its goods.
Evaluation

Image Source: YCharts
DDS's forward PE ratio is estimated at 15.03 compared to a range of forward PE ratios of 6.5 to 11.38 estimated for its peers (JWN, KSS, M, BBBY, BBY). This data implies that the market perceives DDS as an expensive stock with no significant growth potential – an opinion that appears to be justified based on the historical income figures discussed above.
The takeaway from the valuation numbers is that the market currently doesn't like DDS very much based on its financial ratings, and the stock will continue to consolidate within a range based on technical factors (charts).
Summary
I am not optimistic about DDS as an investment, whether short term or long term. This is because his revenue growth in the pre-COVID-19 period was stable and he only managed to beat profit estimates through an aggressive cost reduction and not through an increase. demand.
In terms of fundamentals, I will opt for a neutral note.
Having said that, I believe DDS is a commercial game. Its short-term interest is high at 44% and the Fibonacci retracement indicator suggests the stock may consolidate between $ 217 and $ 264, with the next support and resistance levels placed at $ 171 and $ 322, respectively. Traders can track volumes and apply their preferred metrics to buy or sell stocks.

Anticipate crashes, corrections and bear markets
Sometimes you might not realize the biggest risks in your portfolio until it's too late.
This is why it is important to pay attention to the right market data, analysis and information on a daily basis. Being a passive investor puts you at unnecessary risk. When you stay on top of key signals and indicators, you take control of your financial future.
My award-winning market research gives you everything you need to know every day, so you can be ready to act when it matters most.
Click here to access and try the Lead-Lag report FREE for 14 days.