MasterCraft Boat Holdings, Inc. (NASDAQ: MCFT) is a boat builder across a number of brands spanning luxury performance runabouts, specialty wakeboard models, high-end saltwater fishing boats, pontoon boats and general small boats. The company received a boost at the start of the pandemic in demand with consumers seeking outdoor recreational activities. Indeed, 2021 has been a banner year for the company in terms of deliveries and revenue despite ongoing supply chain issues that have limited production and are now driving up costs.
While management remains optimistic for the year ahead with positive indications citing trends such as low dealer inventory levels industry-wide, MCFT shares are under pressure, trading at the lowest since December 2020. There is a feeling that the "boating boom" may be on its last legs with consumers facing the reality of high gas prices and tighter discretionary budgets. Rather, the challenge here is the poor sentiment towards the industry which is generally heavily dependent on the economic cycle.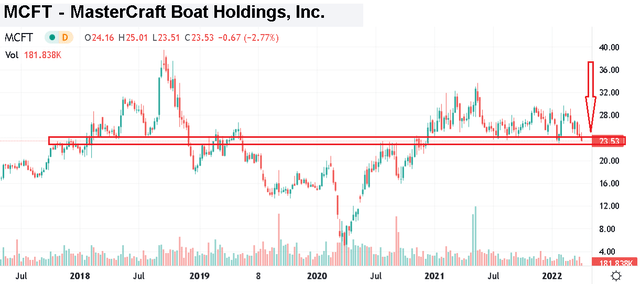 MCFT Revenue Summary
MasterCraft last reported its fiscal 2022 second quarter results in February with non-GAAP EPS of $0.91, $0.12 ahead of estimates. Revenue of $160 million was up 34% year over year and was also $6 million above consensus. Unit volumes reached 1,909, up 11.4% from the year-ago period, with particular strength from the 'Crest' pontoon brand. The trend of net sales exceeding volumes reflects overall higher average prices at wholesalers. Adjusted EBITDA of $25.0 million, up 17.4% from $21.3 million in the second quarter of Fiscal 2021.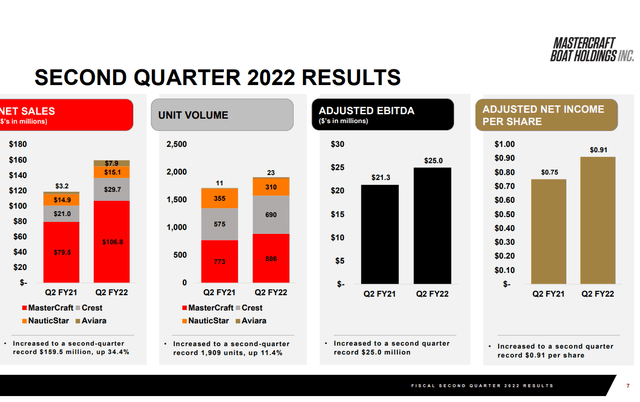 Management noted that despite having the "second most profitable quarter in company history," results were limited by production and shipment delays. Inflationary trends have increased material costs as well as labor expenses. The result is that the adjusted EBITDA margin at 15.6% decreased from 17.9% in the period last year. The company expects some of these trends to continue, but is trying to focus on efficiency to support margins.
In terms of guidance, management is targeting net sales growth "in the range of 25%" this year with some visibility for EPS to climb 32% to $4.26. The setup here is for continued strong retail demand and wholesale visibility which refers to historically low dealer inventory levels that should be rebuilt.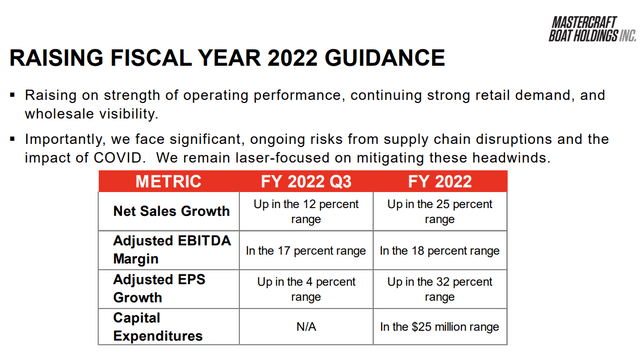 Finally, note that MasterCraft ended the quarter with $60 million in net debt versus $98 million in adjusted EBITDA over the past year. A leverage ratio of 0.6x highlights the overall strength of the balance sheet. On that score, the company has been active with share buybacks, repurchasing $10 million in stock in the last quarter with an additional $40 million remaining in authorization.
MCFT stock price prediction
By all accounts, the fundamentals are positive and MCFT continues to benefit from several short-term tailwinds. Working with its dealer network, current quarter production is likely to include deliveries scheduled through the end of the year.
That said, the challenge we see is looking to 2023 and 2024, when the industry and demand could be very different. Consumers may think twice about getting into boating with the national average gasoline price now above $4.00 per gallon. The other insight we offer is the potential glut in the used boat market as first-time buyers in 2020 and 2021 look to offload their "investment" in what remains a hot market price-wise.
The setup here is that beyond this year, the boat market may face weaker demand and oversupply. We believe the downturn has already begun and 2021 represented a "peak" demand environment for the foreseeable future.
The other side of the discussion is that stocks "look cheap" with MCFT trading at a forward P/E of just 6x versus management's 2022 EPS forecast. On this point, it is important to recognize that boating industry stocks historically trade at depressed multiples as a discount to the broader market given its sensitivity to the economic cycle.
We note that its counterpart in Malibu Boats, Inc. (MBUU) and nautical supply retailer MarineMax, Inc. (HZO) is also trading with single teen earnings ratios, which also reflects skepticism about the sustainability of currently high profitability. In other words, MCFT's bearish case puts it on the side of a "value trap" in a scenario where upcoming earnings miss expectations and industry sales trends begin to underperform.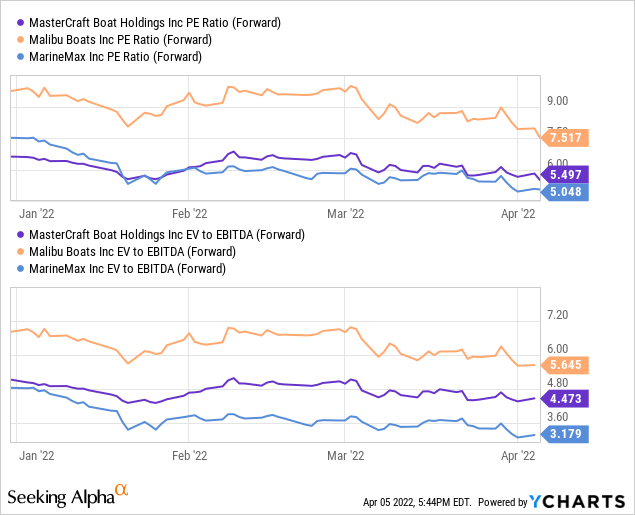 From a technical perspective, we view the current stock split as an important market signal that opens the door for further downside. It just doesn't seem appropriate to bet on the boat market as a good investment in the current market environment.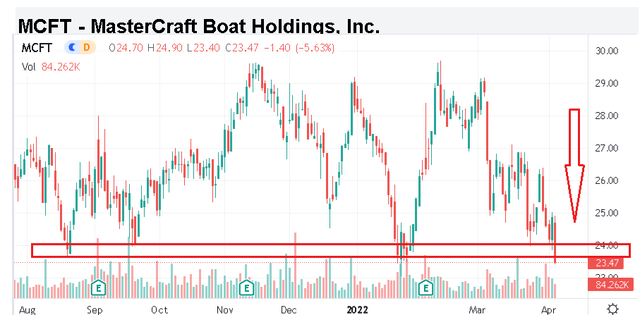 Final Thoughts
We rate MCFT as a hold leaning to the bearish side but at the same time acknowledging the strengths of MasterCraft Boat Holdings. The company's balance sheet and recurring profitability likely limit the downside for stocks with some fundamental value. We see the stock's fair value closer to $20.00, implying a forward P/E closer to 5x on the current 2022 EPS consensus. That said, the downside here is probably not enough to call MCFT a "sell" or necessarily a great short-term opportunity.
In our view, high production costs and continued supply chain disruptions may lead to lower than expected margins in the coming quarters. Headlines of deteriorating consumer spending momentum may put further pressure on sentiment towards the stock and lead to downgrades to the long-term earnings outlook. On the upside, we want to see the company ramp up shipments while margin levels will be a key watchpoint for the rest of the year.